Nová facebooková stránka "Dilema CZ/SK" začíná být populární.  
Na stránce uživatelé vybírají jedno "lepší" zlo ze dvou, neboli vybírají lepší možnost, když na výběr mají jen dvě ne zcela pohodlné varianty a každý se rozhoduje, co si zvolí a s čím by se tak nějak dokázal smířit. Ovšem tam ale občas zahledneme i zcela pozitivní nebo tematicky neutrální hlasování, kdy uživatel jednoduše zvolí to, co se mu víc líbí, než aby přemýšlel o negativních věcích.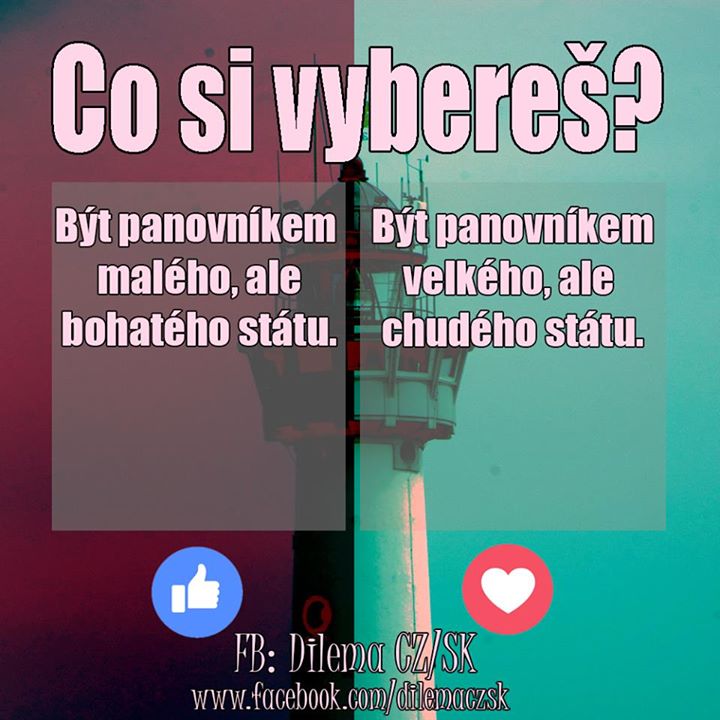 Design příspěvku stránky je také originální a povzbuzuje pocit smutku, stability, tváří se seriózně a vážně, dle barev má nádech pop art obrazů minulého století a dělí příspěvek na dvě části, čímž naznačuje, že varianta jsou jen dvě. Na pozadí je vidět obrovská věž, která je středem obrazu. 
Mimochodem, tato tvorba se může stát významným uměleckým dílem roku 2017. Jeho autor určitě má zkušenosti v tomto oboru a nepřekvapilo by nás i to, kdyby měl někde výstavu podobných obrazu. 
Dilemata nás provázejí během celého života  a často se musíme rozhodovat. Na stránce vidíme nejen zcela reálná dilemata z běžného života, ale i fantastická… Nebo i ta, co dokážou vymodelovat nějakou neobvyklou nebo kritickou situaci. Občas výsledky dilemat jsou naprosto neuvěřitelné a nelze pochopit, proč většina volí zrovna tu možnost, kterou bys osobně nikdy nezvolil… ale o to je to zajímavější. Toto a v takovém množství neuvidíte nikde jinde než na těchto stránkách.
5125 Shlednuti
6 Shlednuti dnes